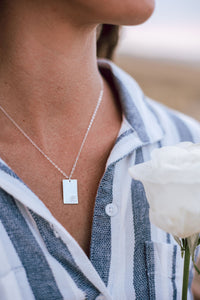 Secret Garden Necklace
Regular price $45.00 Sale
"Her heart was a secret garden and the walls were very high." 
-William Goldman, The Princess Bride
She has a beauty that many dare not touch. Her thorns of protection guard her from any threat of destruction. Some say she's blocking her chances to be loved by having such a guard all around, but she is confident in the love of her Heavenly Father and His abilities to bring along one who knows how to navigate the thorns and discover all of her beauty. He will tend her garden- her heart, with a pure and tender love. Her thorns look like harsh defense to those who do not know the damage she's endured, but to the one God sends for her heart, the thorns will awaken an adventure to beautifully and heroically navigate. Her heart isn't a playground for all, but a well protected treasure to be fought for and secured by the one who holds the key.
16" necklace with 2" extender